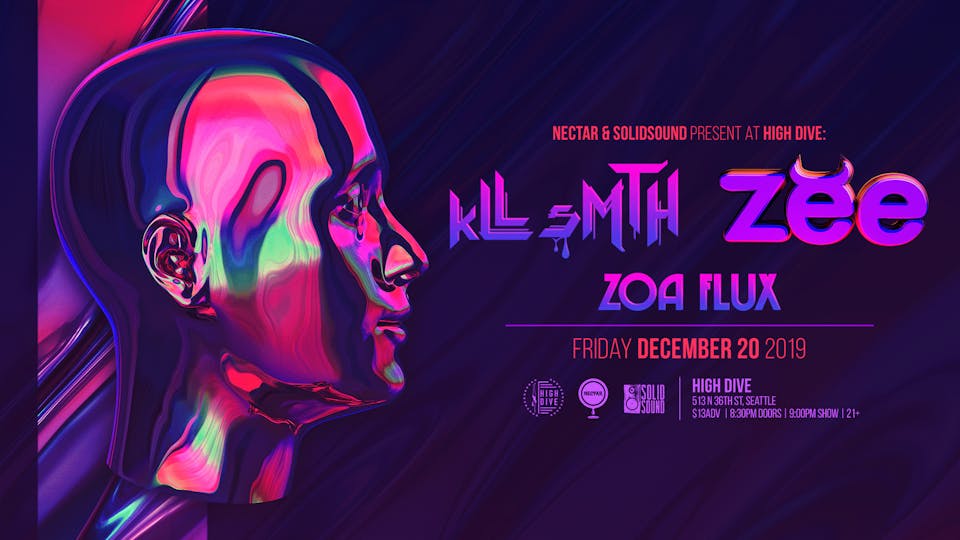 Nectar & SolidSound present at High Dive:
KLL SMTH
ZEBBLER ENCANTI EXPERIENCE
Zoa Flux
Get ready for co-headliners KLL SMTH + ZEBBLER ENCANTI EXPERIENCE to take over High Dive with Zoa Flux this December! Tickets on sale now!
12.20 Friday (Electronic)
Nectar & SolidSound present at High Dive:
KLL SMTH
ZEBBLER ENCANTI EXPERIENCE
Zoa Flux
At High Dive
$13adv
8:30pm Doors
9:00pm Show
21+
High Dive
513 N 36th St
highdiveseattle.com
KLL SMTH
Like a prismatic audio avalanche ripping down the mountains of Colorado to ears all around the world, kLL sMTH has stayed vigilant in his mission to keep the heart in the bass and the bounce in the booty. Cruising powerfully through gut-wrenching lows to illuminated peaks (and occasionally stopping off in sexy-time), his music paints an inspired portrait of an ecstatic dance-floor.
ZEBBLER ENCANTI EXPERIENCE
End Trance covers a lot of new territory for ZEE. Aside from being our debut EP for Wakaan (as opposed to contributing standalone collaborations one-at-a-time for previous Wakaan compilations), it charts new stylistic territories for ZEE. "End Trance" and "Trance End" are 128 BPM, a slow tempo for halftime music, which allows for more space between beats and opportunities opening for experimentation. There's also the sound design: this release revisits many classic dubstep womps, but also borrows from the fresher neurostep sound all mixed up with trademark ZEE sounds have made for a perfect storm of heavy-hitting hybrid bass.
Old meets new, nostalgia meets futurism; these dichotomies are prominent throughout the album, and it's noticeable with the incorporation of classic samples. Audiences will recognize the canon of old school rave sounds and vocal chops. There is also a genre duality in here that ZEE music has long toyed with. Both of the 128 BPM tracks break down into trance arpeggios and wander into echoes of trance and rave territories before exploding back to the bass. The idea of extremes meeting is a long time favorite theme in ZEE music and this album takes it to new places.
Conceptually, the idea behind End Trance is to break the trance—snapping you violently back to reality. This is very ZEE. In our sonic realm of psychedelic music where artists want to put you in a trance, ZEE is here to wake you from the trance. When I was making the "Trance End" and "End Trance" duology, I kept coming back to this vision of making a song that snaps someone out of their MKUltra mind spell.
End Trance does not spend one moment fucking around—these are four bangers with no filler, no time outs, nothing but subwoofer candy. I wanted to make a true dance floor weapon out of this whole EP; just drop the needle anywhere and it's peak-hour fire.
-Ben "Encanti" Cantil
Zoa Flux
If you like Bass Music well you came to the right place!! Zoa Flux is all about Dark, Cosmic, Melodic Alien Vibes.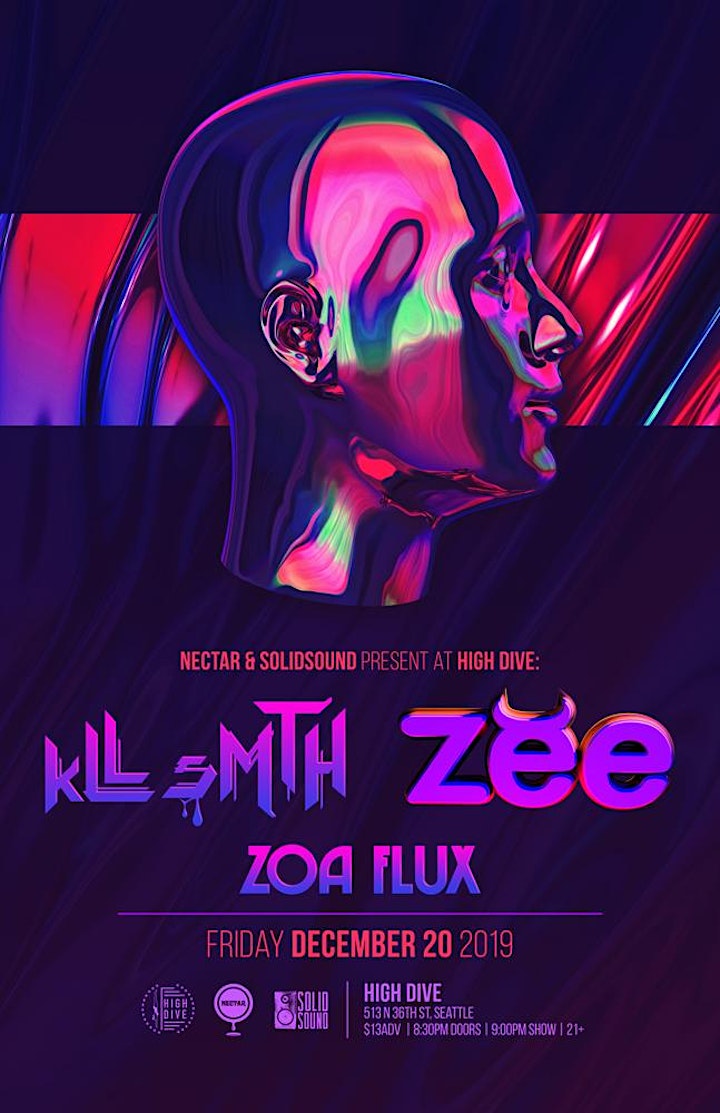 Venue Information:
High Dive Seattle
513 N 36th St.
Seattle, WA, 98103