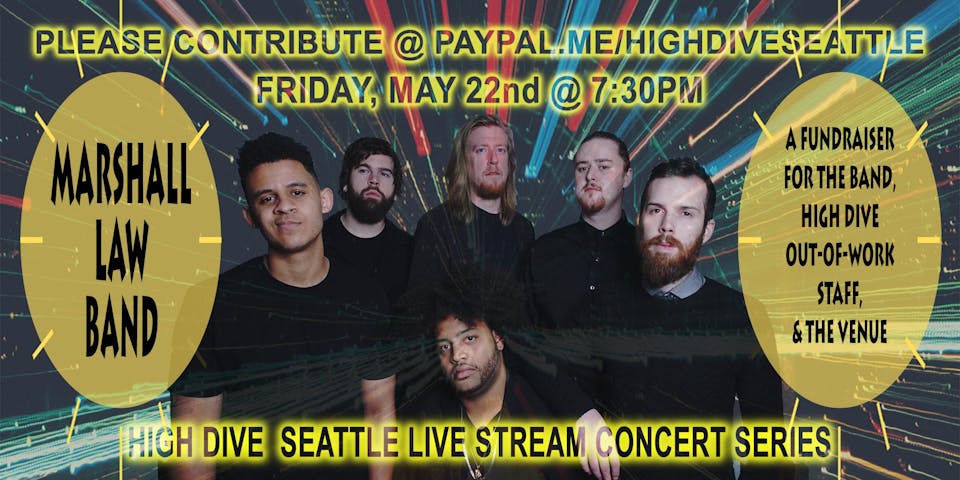 High Dive Live Stream Concert Series Presents: MARSHALL LAW BAND
A live stream FUNK-HOP celebration of positive vibes through music w/ MARSHALL LAW BAND!
FRIDAY 5.22 @ 7:30PM!
A LIVE STREAM CONCERT featuring MARSHALL LAW BAND!
YOUR CONTRIBUTION to this live stream concert benefits the band, High Dive out-of-work staff, and the venue during this industry-wide shutdown in hopes that we can one day reopen and ROCK when this difficult time passes.
CONTRIBUTE ANY TIME HERE: https://www.paypal.me/highdiveseattle
LIVE STREAM LINKS HERE:
ON FB: https://www.facebook.com/HighDiveSeattle/live
ON YouTube: https://www.youtube.com/channel/UCsFvJaFDnl5ppe5Wr5mG7FA
ON Twitch: highdiveseattle
WE MISS YOU. WE LOVE YOU. SEE YOU SOON!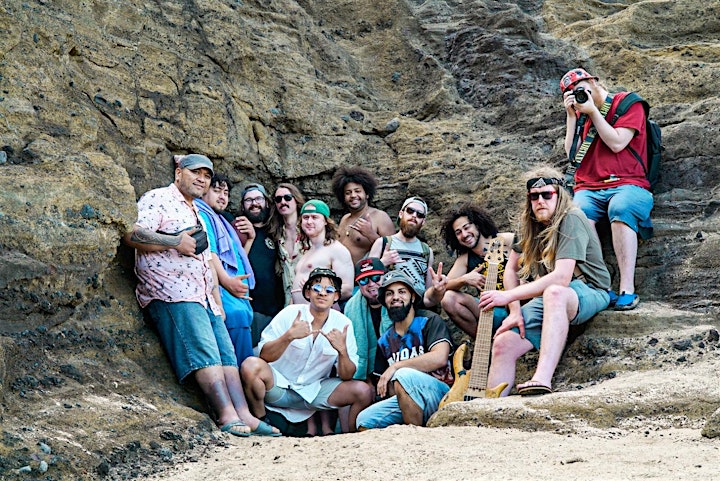 MARSHALL LAW BAND
facebook | instagram | website
Since forming in 2017, Marshall Law Band (MLB), has grown from an unknown funk-hop six-piece to a lauded community collective. The group, who's music focuses on individual empowerment and positive community change through the filter of hard-hitting hip-hop vocals laid over funk instrumentation, dropped their debut EP, Nostos: A Hero's Journey, in 2018, and immediately became a Seattle household name due to both its music and its community involvement — their shows, which feature over 10 band members, also call upon anywhere from three to 10 local musicians to fill out the stage. After turning Nostos into a theater production — with free tickets for underprivileged teenagers — MLB got busy touring, selling out venues in both Seattle and Portland and headlining iconic Seattle mainstays like The Crocodile and Neumos. The band continued their passion for community outreach by organizing festivals like 2019's Summer Splash Fest, which brought together 30 PNW artists and sold over 1,500 tickets, and Emerald City Gala, which sold out Neumos, Barboza, and The Runaway and filled a box truck with donations for those experiencing homelessness. The band — now at 14 members — began 2020 writing new music on tour in Hawaii, but in March of 2020, the band's debut nationwide tour was cancelled due to the outbreak of COVID-19. No matter, though — MLB is just as busy as always, working on developing the Hero's Journey workshop, which is designed to help local teens begin to see themselves as the hero in their own lives and communities. Their debut full-length album is expected in Month year.
Venue Information: