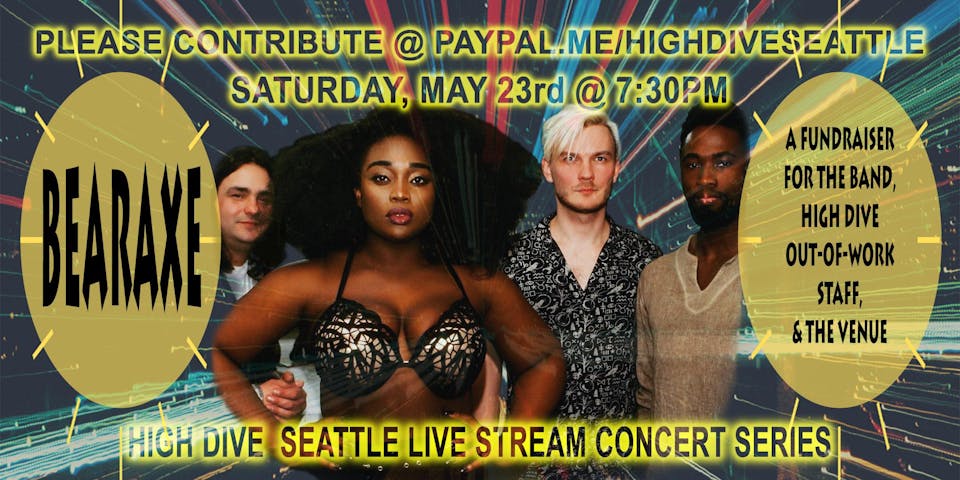 A virtual SOUL-PUNK RAGER w/ BEARAXE streaming LIVE from the High Dive stage! SAT 5.23 @ 7:30PM
SATURDAY 5.23 @ 7:30PM!
A LIVE STREAM CONCERT featuring BEARAXE!
YOUR CONTRIBUTION to this live stream concert benefits the band, High Dive out-of-work staff, and the venue during this industry-wide shutdown in hopes that we can one day reopen and ROCK when this difficult time passes.
CONTRIBUTE ANY TIME HERE: https://www.paypal.me/highdiveseattle
LIVE STREAM LINKS HERE:
ON FB: https://www.facebook.com/HighDiveSeattle/live
ON YouTube: https://www.youtube.com/channel/UCsFvJaFDnl5ppe5Wr5mG7FA
ON Twitch: highdiveseattle
WE MISS YOU. WE LOVE YOU. SEE YOU SOON!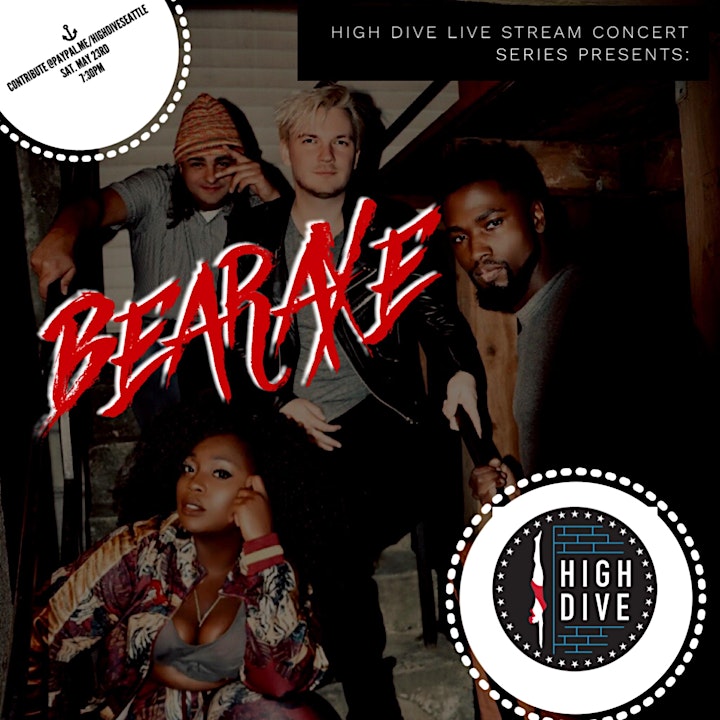 BEARAXE
facebook | instagram | bandcamp
Seattle rock 'n' roll band, BEARAXE, is torrential. Lightening-like vocal shrieks and electric guitar leads clap as thundering rhythms boom from the bass and kick-drum. Fronted by the all encompassing cornucopia-voiced Shania Shepherd, BEARAXE also features the nimble Matt Williams on lead guitar, pocket-perfect Jon Lemmon on bass and dizzying Oz LeBrae on drums.
BEARAXE released their debut EP, Last Call, in 2018. The album, recorded by legendary producer Jack Endino, was an Emerald City hit, earning the band spots on Top-10 tastemaker lists and spins on the popular radio station, KEXP. In 2019, BEARAXE performed at Capitol Hill Block Party and at the Showbox Theater on New Year's Eve. This year, the band played a coveted spot at Timbrrr! Winter Music Fest and opened for Temples.
But the thing about BEARAXE is, if you've seen the group live for even a song, they last in your mind like a photo. Each moment, the band is a cloud ready to burst, to unleash sound like weather into the world. And while the music harkens to both classics like Led Zeppelin and Lead Belly, the treatment each of the musicians give their craft is as unique as new warm light on your cheek after the storm.
Venue Information: