High Dive & The PBJ Present:
HENHOUSE PROWLERS
SPARE RIB & THE BLUEGRASS SAUCE
$10.00 - $15.00
Sales Ended
Bluegrass Ambassadors HENHOUSE PROWLERS play 175 shows/year all around the world! Catch 'em in Seattle with SPARE RIB & THE BLUEGRASS SAUCE!
This show is part of Northwest String Summit's #RoadToStrummit2020 tour! For more info for how to save money on your 2020 NWSS festival passes (or even win a pair of passes!), please visit: bit.ly/NWSSRTS20
5.6 Wednesday (Bluegrass)
High Dive & The PBJ Present:
HENHOUSE PROWLERS
SPARE RIB & THE BLUEGRASS SAUCE
$10adv / $15dos
8pm doors
8:30pm show
21+
High Dive
513 N 36th St
highdiveseattle.com
HENHOUSE PROWLERS
THE HENHOUSE PROWLERS ARE BLUEGRASS AMBASSADORS.
Founded over 14 years ago with the simple desire to play original and powerful bluegrass, this quartet now finds themselves at the intersection of performance, diplomacy and education.
The Prowlers have now been to more than 25 countries across the globe. Working with the U.S. State Department and under their own nonprofit, Bluegrass Ambassadors, the band incorporates music from Africa, Asia, the Middle East and more into their already robust repertoire of unique traditional American music.
When performing live, presenting workshops and wherever they are, the Henhouse Prowlers find and spread the commonality we share as human beings through the universal language of music.You can feel it at every show.
On stage, the group's electrifying performances give audiences a sense of how much they love what they do; while on record, the band manages to explore their collective life experiences through songwriting and intricate instrumentation. While bluegrass is the undeniable foundation of the Prowlers music, the band manages to bend and squeeze the traditional form into a sound all their own.
With over 175 shows a year, the quartet often performs in places traditional American music has never been.
Tours in Siberia or the Middle East are not uncommon since the Prowlers started working as cultural ambassadors with the US State Department in 2013 on the American Music Abroad cultural diplomacy tours. These global experiences have pushed the band in new directions musically, with songs from Africa and Asia on several albums, but they have also moved the group to start an educational outreach program for school children and festival-goers alike. The Prowlers nonprofit, Bluegrass Ambassadors, uses traditional American music as an educational foundation to connect folk music and cultures all over the world. Having been to 11 countries in Africa alongside Russia, Pakistan, Kyrgyzstan, Saudi Arabia and UAE, these powerful direct experiences with distant peoples and musicians have shaped the band's worldview and shifted the group's direction towards bridging cultural gaps through music, educational programs and workshops.
SPARE RIB & THE BLUEGRASS SAUCE
Formed in 2005, Spare Rib & The Bluegrass Sauce brings it's own special blend of Groove-Grass to the NorthWest. Playing a wide range of Traditional, Old Timey, Classic Rock, and Original music that merges Bluegrass with marathon Jams, the Bluegrass Sauce will get you hootin', hollerin' and stompin' all night long!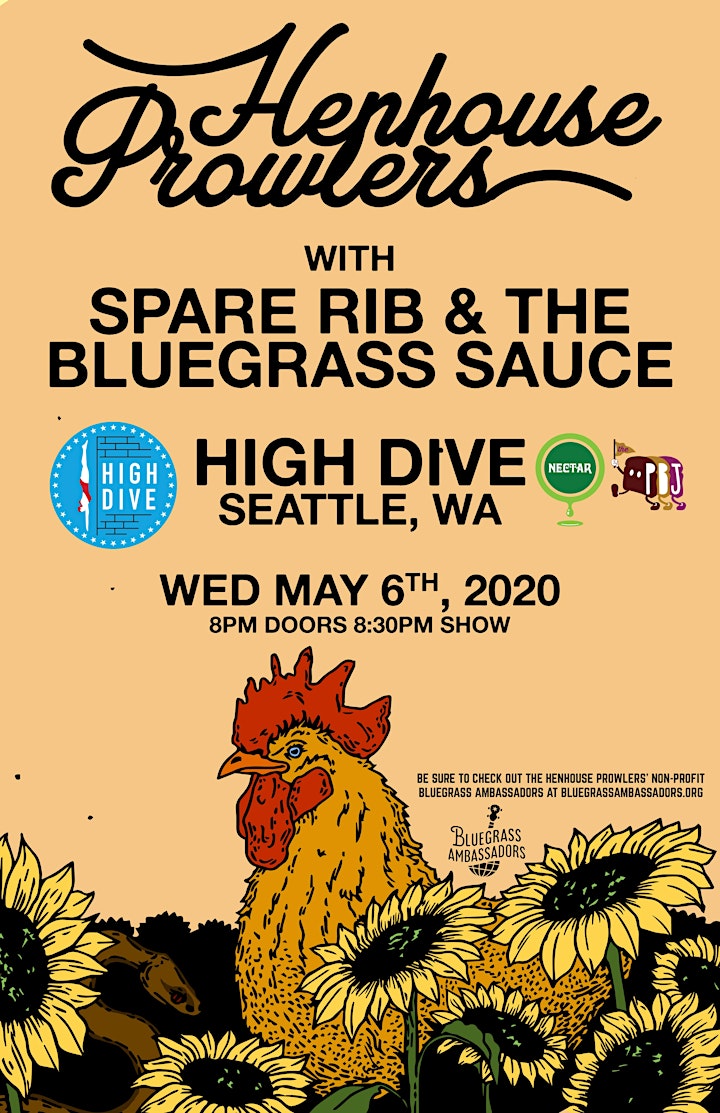 Venue Information:
High Dive Seattle
513 N 36th St.
Seattle, WA, 98103