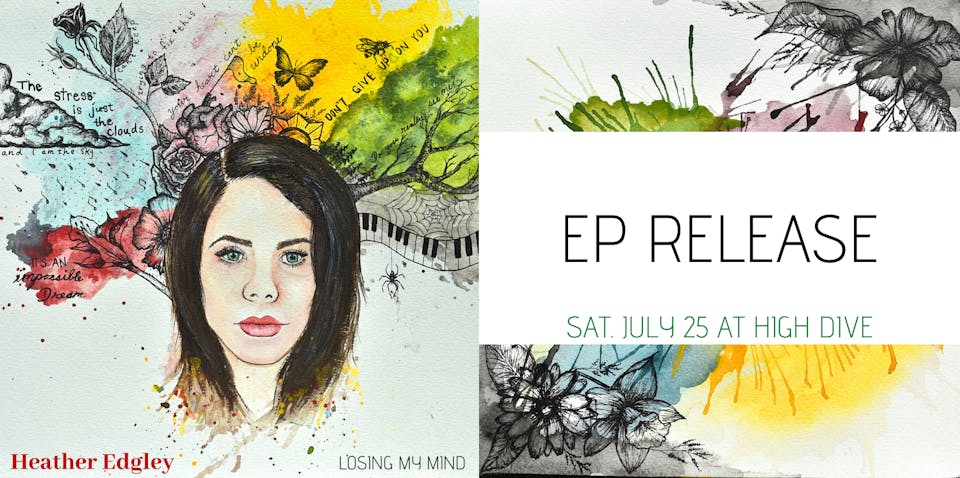 Heather Edgley EP Release w/ Bug Hunter & Public Pool
Heather Edgley's EP Losing My Mind is complete! To celebrate we're throwing a release party on Saturday, July 25th, 2020 at the High Dive!
The Losing My Mind EP will be available for streaming and you may also pre-order physical CDs and t-shirts soon!
Public Pool and Bug Hunter to open but stick around to watch Heather Edgley perform the new album live.
Given that things are continually changing with regard to the Covid-19 pandemic, we will be making final calls about the event setup and attendance as the show gets nearer.
At a minimum we will live stream the performances and accept donations for the event. If we are able to host a limited audience by the show date, a limited number of tickets will become available at a date TBA.
Suggested "ticket" donations are $10.
HEATHER EDGLEY
Heather Edgley is a Baroque Pop singer-songwriter known for her contemporary style and ethereal voice that captivates audiences with the vulnerability of her tone and lyrics. Her band's dreamy and melancholy indie rock sound combines cinematic instrumentation, emotion-driven melodies, and energized dynamics with thoughtfully crafted lyricism emboldened with wit and vulnerability. This six piece band includes lead vocalist and songwriter, Heather Edgley on piano, drums, guitar, bass, cello, and violin. Born and raised in the Pacific Northwest, Heather Edgley is a local Seattle Singer-Songwriter and pianist whose uninhibited, raw expression connects with her listeners on the deepest level, reminding us, even just for a moment, that we are not alone in our struggle, fight, or feelings.
Venue Information: