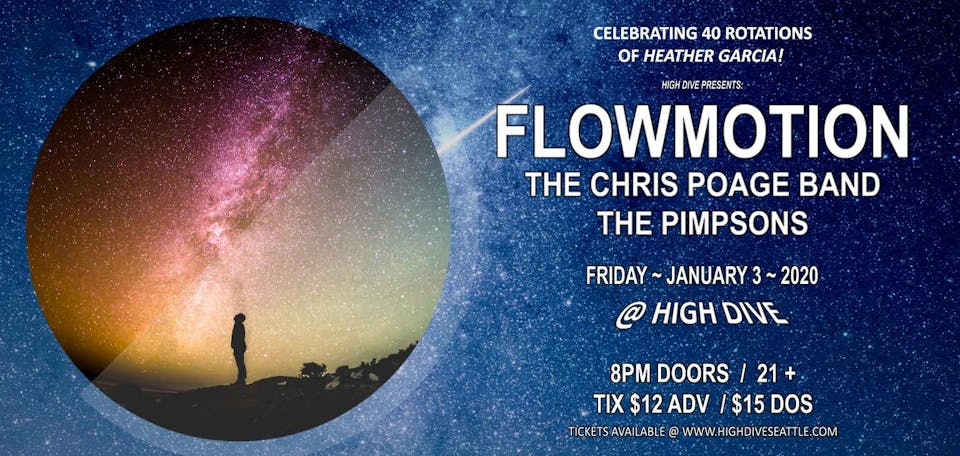 FLOWMOTION
The Chris Poage Band, The Pimpsons
$10.00 - $12.00
Sales Ended
It's Heather Garcia's 40th Rotation Celebration! Featuring FLOWMOTION with Chris Poage Band and The Pimpsons. Tickets on sale now!
1.3 Friday (Jam/Rock)
High Dive Presents:
Heather Garcia's 40th Rotation Celebration! featuring:
FLOWMOTION
The Chris Poage Band
The Pimpsons
$12adv / $15dos
8pm doors / 9pm show
21+
High Dive
513 N 36th St
highdiveseattle.com
FLOWMOTION
ALL-STAR LINE-UP featuring: Andy Coe, Joe Doria, Mark Mattrey, Scott Goodwin, Bob Rees and Josh Clauson. Flowmotion unifies crowds with sweet melodies, high energy, raging guitar and drum solos, and an incredibly tight rhythm section. They move seamlessly through original compositions with a liberating mix of world-funk, jam-rock and sweet balladry on occasion!
The Chris Poage Band
Chris Poage's creative spirit is ready for any musical challenge that comes his way. With The Chris Poage Band, he moves smoothly through rock, folk, reggae and country, all the while remaining true to the unique sound he's forged with his compatriots. "Many of us have traveled the world together, playing local, national and international shows," Poage says. "Our experience allows us to go in any direction we choose. We pull from Mts. & Tunnels and Panda Conspiracy catalogs while pushing forward with the horn infused 2019 Chris Poage album: Artifacts And Western Theory"
The Pimpsons
Skalternative (Ska, Reggae, Alternative, Punk, and stuff)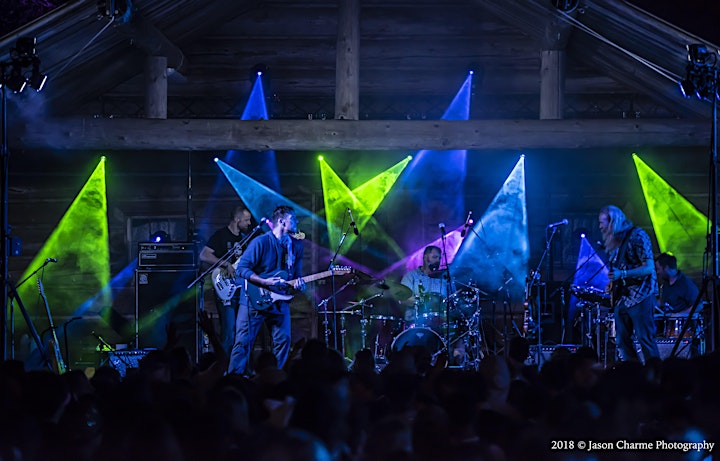 Venue Information:
High Dive Seattle
513 N 36th St.
Seattle, WA, 98103